LAPP to Introduce Highly Flexible, Rugged VFD Motor Cables at ATX West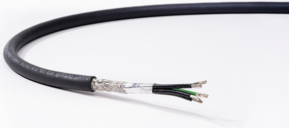 Florham Park, NJ — February 5, 2020
LAPP USA is introducing a line of highly flexible, shielded VFD motor cables for industrial tray applications with a tight bending radius. LAPP will showcase the new cables, ÖLFLEX® VFD 1XL and 1XL with Signal, at ATX West February 11 – 13 at the Anaheim Convention Center at LAPP's Booth, #4491.

ÖLFLEX® VFD 1XL cables feature XLPE (Plus) insulation which results in a reduced cable outer diameter (OD) making it possible to install more cables into increasingly crowded cable trays/cable carrier systems, or to downsize protective cable conduit systems.

The highly flexible cables also carry a CF-01 continuous flex (CF) rating in accordance with LAPP's UL-Verified Continuous Flex Test Method (UL Verified ID A522492). The cables' exceptional flexibility makes them easy to install inside cabinets where crowding is a concern. Additional approvals include:
UL TC-ER per UL 1277.
C(UL) CIC FT4.
Meets XHHW-2 performance requirements per UL44.
And because VFD motors often operate in harsh industrial environments, cables that connect them to their drives have to stand up to these factory conditions. ÖLFLEX® VFD 1XL cables are engineered to resist oil, water, impact, and other environmental hazards. This combination of robust construction, flexibility and reliability make these cables suitable for use with pumps, compressors, conveyors, elevators, extruders, presses, HVAC and other industrial applications with VFD motor connections.
For more information about the ÖLFLEX® VFD 1XL and 1XL with Signal as well as LAPP North America's full lineup of VFD cables, visit the catalog pages.
Schedule a meeting with LAPP at ATX
More information about LAPP at ATX