Servo Solution: 2 tray-to-track cables that save time and money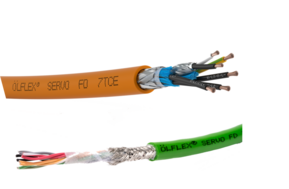 Manufacturers who require accurate position, velocity, and torque control are increasingly using servo motors in their fast-paced automated environments.
Servo systems require fast and reliable power, data, and feedback signal. However, harsh industrial settings create persistent challenges to connecting motors to drives, which are often some distance apart.
Running servo cables through a factory to connect the drive to the machine is material- and labor-intensive. You can run a tray-rated cable directly from the drive to the equipment, but most are not designed for continuous flexing in a cable track. Other workarounds may require multiple cables and connection points, and the installation may not meet code.
LAPP offers a Servo Solution using two new industry-leading cables robust enough to perform at optimal levels even in the harshest factory conditions. Both cables are tray and continuous flex rated so they can run from cable tray to track – eliminating the time and expense of multiple cables and connectors.
Key factors of this Servo Solution include:
Slim OD's and high flexibility that ease installation.
Low capacitance design allows for longer runs.
High oil, flame, and mechanical stress resistance.
Support for major power and signal conductor configurations found in leading servo motors.
UL Continuous Flex rating*
Specific tray ratings (see catalog for details)

Read more about how these 2 cables provide a superior connection solution to enhance your critical servo applications. Click below.
Complete the connection with LAPP EPIC® connectors:
LAPP engineers and manufactures a full range of robust servo cables that stand up to harsh factory conditions. See our full range of servo cables in our Digital Catalog.