Preventative Maintenance helps maximize factory up-time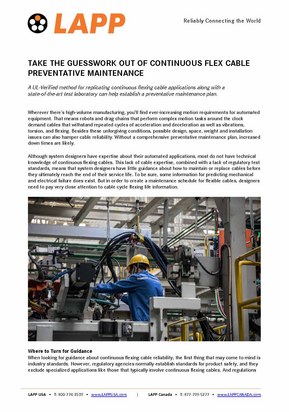 Although system designers have expertise about their automated applications, most do not have technical knowledge of continuous flexing cables. This lack of cable expertise, combined with a lack of test standards, means that system designers have little guidance about how to maintain or replace cables before they ultimately reach the end of their service life. To be sure, some information for predicting mechanical and electrical failure does exist. But in order to create a maintenance schedule for flexible cables, designers need to pay very close attention to cable cycle flexing life information.

LAPP's UL-Verified Continuous Flex Test Method* allows users to estimate a preventative maintenance program based on the cable product's life cycle performance. Continuous flex cables are rated according to their design and, through LAPP's own test equipment, calibrated to function according to a described claim. Each claim is assigned LAPP's Motion Type Attribute: CF-01, CF-02 or CF-03.
LAPP is the only company to achieve UL Verification for its test method for continuous flexing applications.
Read more about how LAPP can help customers create Preventative Maintenance schedules, and select cables and cable track for the specific motion in their continuous flexing application and support their productivity and efficiency.