ÖLFLEX® SERVO FD 7TCE named FINALIST for Plant Engineering's Product of the Year 2019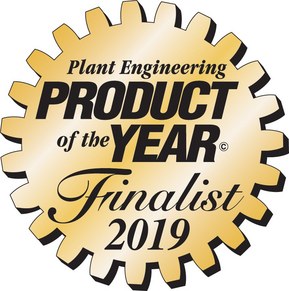 LAPP's new ÖLFLEX® SERVO FD 7TCE cable has earned a Finalist position for Product of the Year 2019 by Plant Engineering.
It is nominated in the Electric Motors & Drives category. Subscribers to Plant Engineering can vote for Product of the Year in whatever categories they feel qualified in. Voting closes January 10, 2020.
This new servo power cable developed by LAPP USA ENGINEERING at our Florham Park, New Jersey facility carries TC-ER approval per UL 1277, and has a CF-02 continuous flex motion rating,* so it can go from cable tray to cable track, eliminating the time, cost, and labor associated with installing two cables. Servo motors often operate in harsh industrial environments, and the ÖLFLEX® SERVO FD 7TCE is highly oil resistant, and has high ratings for flame resistance and mechanical protection.
A tight bending radii and longevity up to several million bending cycles provide easy installation and durability to maintain productivity.
In addition to its mechanical protection, the 7TCE features a low-capacitance design that enables long-distance runs with limited losses in current and voltage. Installers tend to run TC-ER cables when sources of power, signal or data transmissions are generated at a central distribution cabinet located some distance away. In servo applications, the drive is typically located in the cabinet to centralize equipment monitoring.
The ÖLFLEX® SERVO FD 7TCE supports many power and signal conductor configurations found in today's servo motors.