LAPP continues to expand engineering department with addition of FTIR Spectrometer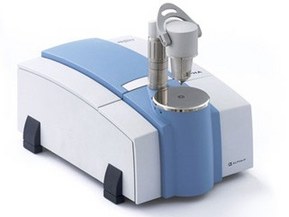 The engineering department at LAPP's North American headquarters in Florham Park, NJ uses a Fourier Transform Infrared (FTIR) Spectrometer to assure the raw compounds that go into cables are the highest-quality on the market.
The FTIR uses a focused light beam and reads measurements on the infrared frequency range. These readings create a "fingerprint" of the material in the form of a visual spectrograph, which is used to identify component materials in the compound. The readings also allow LAPP's engineers to identify the presence of aberrant ingredients in a sample. Using the FTIR provides critical information to LAPP's engineers so they can to continually analyze cable jacket products.
Analysis begins with raw materials. LAPP's engineers test random samples to identify any component deviations before the raw materials are used in its manufacturing process. In addition to preventing potential quality concerns before they occur, the engineers will communicate with suppliers to alert them of the findings and work with them to resolve possibly larger issues at the source.
LAPP's engineers also use the FTIR to check samples of end products for any indication of contaminants, or issues caused by inconsistencies anywhere in the manufacturing process like contaminants or other variations. Continual analysis of finished product is another method used to validate the manufacturing process, delivering additional quality checks.
In addition to rigorous verification of product performance, the engineering department at LAPP USA validates the actual chemical make-up of raw and finished materials. This provides their customers quality assurance at a deep level and is part of LAPP's ongoing efforts to maintain their highest quality position.
The FTIR spectrometer is part of a large and growing collection of advanced tools LAPP's engineers use to maintain LAPP's cable market leadership.
Find other Engineering documents here.