Food & Beverage Q&A Session Addressing Hygiene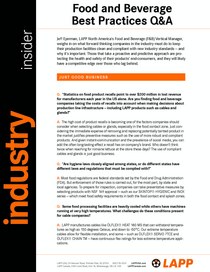 Regulations in the Food & Beverage industry are constantly evolving to improve health and safety. Hygiene concerns are always top-of-mind for regulators focused on keeping the public safe. Food manufacturers share these concerns, and the critical nature of hygiene and safety create unique challenges in food production facilities. Operating large, industrial-grade machines presents many challenges to maintain the cleanest possible environment, so those production facilities must incorporate the principles of Hygienic Design.
One of the often neglected areas of food processing operations is cabling. Cables, connectors, and glands play an important role and, if poorly designed, can present seams, gaps, and surfaces where bacteria can grow.
Cables, connectors and glands must be resistant to a wide range of chemical, thermal and physical stresses so that they can be used in refrigerated areas and damp environments, and remain reliable. They must also withstand aggressive industrial acidic and alkali cleaning agents which are commonly used during cleaning processes.
LAPP has a comprehensive range of products to meet the demands of the food & beverage industry, including NSF 169 certified products like our SKINTOP® HYGIENIC series and INOX series.
LAPP North America's Food & Beverage Vertical Manager, Jeff Eyerman, discusses how companies must remain compliant to remain competitive.
Read and download this Q&A session document in our online Digital Library.