Canadian Brewery Teams with LAPP Canada for New Brewery Construction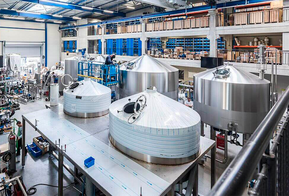 LAPP has been a major player in the expanding food & beverage industry for many years. Strict safety and hygiene conditions in complex manufacturing and operations settings require high quality solutions engineered for these environments. LAPP provides robust power, signal, and data solutions delivered using our wide range of cables, connectors, and strain relief and conduit products.
LAPP Canada recently worked with a large Canadian brewery to build the largest brewery in western Canada. Stringent Canadian approvals are critical for successful design and implementation in food and beverage facilities. LAPP products each meet a range of standards and approvals including Canadian standards.
Another critical factor for the success of such a large greenfield project is a strong working relationship between all parties: distributors, engineers, installers, and LAPP sales and customer support. All parties involved worked together to keep the project on track.
One of the customer engineers involved in the project stated, "LAPP's excellent customer service and willingness to adapt to changing requirements resulted in a smooth customer experience on our latest project together. From cable inventory to in-stock solutions, Christina at LAPP was always available to help provide a solution. Any hiccup was quickly resolved with a solution. We look forward to working with LAPP again in the future."
Read more about the project in our LAPP Digital Library.