ÖLFLEX SERVO FD 7FTC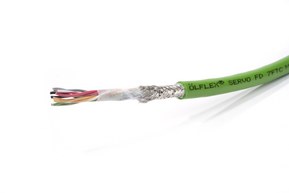 The ÖLFLEX® SERVO FD 7FTC is an encoder/feedback cable designed for servo applications. Engineered for harsh industrial environments, the FD 7FTC features superior cable attribute ratings:
OR-03 oil resistance
FR-03 flame resistance
MP-03 mechanical protection
CF-02 motion*
The cable's XLPE (Plus) insulation provides low capacitance enabling longer cable runs.
This cable is suitable for mounting in a cable tray without conduit, saving time and expense.
The ÖLFLEX® SERVO FD 7FTC goes from cable tray to cable track which enables it to connect a servo motor controller to an encoder/resolver, and provide this connection via a cable chain. It works with industry standard servo motors including Siemens and Rockwell.
Key benefits of the ÖLFLEX® SERVO FD 7FTC include:
· Reduced cable diameter for easier installation.
· Thin-Wall XLPE insulation provides low capacitance
· Twisted pairs minimize inductance and capacitance for improved long cable runs
· FD cable for industrial platform and infrastructure
· Thermoplastic elastomer (TPE) jacket resists a wide range of disinfecting solutions commonly used in industries including Food & Beverage. Also provides OR-3 and FR-03 ratings.
Applications for the ÖLFLEX® SERVO FD 7FTC include:
Drag chain
• Cable travels from tray to track
Multiple cable trays
• Multiple cables can be found in trays along with servo power and feedback cables
• Cables and installation must meet NEC NFPA 70 code.
Allen Bradley
• Food and Beverage Equipment
• Allen Bradley TC-ER Power servo cable
• Allen Bradley PLTC-ER Encoder Cable
Click here to see the Digital Catalog page for product details.
Related products:
ÖLFLEX® SERVO FD 7FTC servo power cable. Plant Engineering's 2019 Product of the Year Finalist!
*CF-02 motion rating is determined by LAPP's UL Verified Continuous Flex Test Method (A522492).