Material Handling
Connectivity In Motion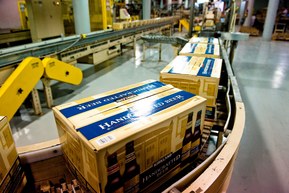 LAPP recognizes the critical role that material handling systems play in productivity and supply chains.
Our industry leading range of cables, connectors, glands, conduit, and cable assemblies are engineered to survive harsh industrial environments and meet increasingly rigorous demands.
The evolution of material handling systems has reached an incredible pace. E-commerce and a changing workforce demand that traditional bulk handling technologies become more advanced and automated. Improving the efficiency of material movement throughout factories, warehouses, and distribution centers improves operational success.
Constant and repetitive movement, and continuous flexing are only two of the challenges faced by handling systems. Cabling and connectivity provide the power & control, monitoring and reporting that keep your supply chain running at peak efficiency.
LAPP provides material handling solutions for every stage of your business:
Input, receiving
Depaletizing
Positioning
Storage and retrieval
Throughput, operations
Conveyor and transportation
Robotics
Automated guided vehicles
Output, shipping
Packaging
Storage and retrieval
Palletizing and sorting

With both a regional and global footprint, we are where you are!
Material Handling products