Photovoltaic
Because solar energy has demonstrated effectiveness for a wide range of uses, from major energy plants to small domestic applications, there is growing demand for this renewable energy source. As a result, photovoltaic technology continues to develop and superior cable performance has become even more critical.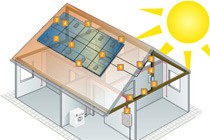 Worldwide Use
Whatever the scope of your photovoltaic project, you can count on our products to deliver superior performance. In Bovera, Spain, for example, more than 5,000 solar modules were installed over an area of 24,700 m2. In this case, implementing OLFLEX® SOLAR cables, with a total length of 20 km, ensured perfect operation. Whether your project is large or small, we are eager to partner with you and help you protect your investment and achieve success.
Quality Counts
Our high-performance components offer a number of features that make them popular and set them apart from other brands. Not only are they UV resistant, but also exceptionally weatherproof and temperature resistant.
System Competence
When quality, durability and high performance is critical, you can trust Lapp to be a partner who offers you ultimate competence and a single source for reliable cables, plugs and connectors for photovoltaics.
Our goal is to not only offer quality products, that have been subjected to stringent tests, but to build relationships with our customers and work together, within the context of projects and industry-specific requirements, to create optimized, custom-tailored solutions.
Our team of experts is glad to work with you in identifying the best product for your application needs and answer any questions you might have.
Call 800.774.3539 or email us: sales(at)lappusa.com
The products listed below are recommended for photovoltaic applications: