Lapp Cable Works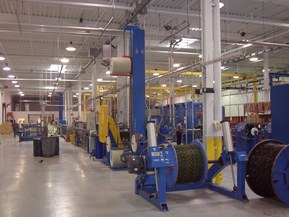 From its state-of-the-art manufacturing facilities in Florham Park, New Jersey, Lapp Cable Works manufactures custom wire and cable for unique applications. As part of the LAPP North America, a companie of LAPP worldwide, LCW utilizes compounds specifically designed for environmental, chemical flexing needs.
ISO 9001:2015 certified, LCW manufactures products to customers' requirements.
Whether you application calls for a static or continuous-flex cable, let Lapp Cable Works manufacture a cost-effective, reliable cable built with LAPP quality and innovation.
OVERVIEW
Low minimums, as low as 2500 ft.
Large material offering
Composite constructions
Product application solutions
Over 40 years of manufacturing
Wide temperature ranges: (-75°C through +180°C)
Electro mechanical cables
Cold temperature applications
Engineering & tehnical assistance
Private labeling
Smaller OD cables
Globally approved cables
Many continuous flex options
CAPABILITIES
Conductors:
Bare Copper
Tinned Plated Copper
Nickel Plated Copper
Water Blocked Strands
Stainless Steel
Flexible Stranding
Thermocouple Alloys
High Strength Alloys
Insulating and Jacket Materials:
PVC
Nylon
TPE/TPR
Polyurethane
Fluoropolymers
Semi-conductive
Polyester
Polyethylene
Polypropulene
PVC/Nylon
Thermoplastic Blends
Shielding and Braids (Metal & Textile):
Aluminum/Polyester Tape
Tinned Plated Copper Braid
Copper Covered Steel Braid
Stainless Steel Braid
Nylon
Bare Copper Braids
Nickel Plated Copper Braid
Silver Plated Copper Braid
Kevlar
Fiberglass